3
Momen-cotton for everyday life
In our Osaka's living, being thrifty was not only for foods, but also for clothes and fabrics such as a roll of Kimono or washed clothes, it was very important for us to not to waste even a piece of Momen cotton cloth. All family members gathered in a fine day of May to dry-out cotton Futon in the sun. Cotton becomes more warm and fluffy when we put in the sun, then we add some more cotton to re-make Futon again. I was sitting by my lovely mother and somewhat it made me so happy to see her stitching one by one to the Futon sheets with a big needle. Before plum rain season of June, we did our own Kimono's bug-out drying in our Japanese-style tatami room, and in summer, we stitch off all of Kimonos then put the in the bamboo hamper just like a Kimono kite and spread them out in our backyards in the sun! How fun it was to run around with my little sister under Kimono kites in the hot summer sky!
We had such a big family and so as all the workers at home. Everyone of them were looking forward to receive a gift right before the Bon summer vacation and new year's. Maybe those were the only occasions that they could get a brand-new Kimono and underwear's. At night mothers spent hours for the needlework and any old cotton Kimono will turn to baby diapers. My mother made a bunch of used cotton cloth diaper for my first daughter.
And in the kitchen, a thin, bleached momen cloth will do a multi-task. We buy a roll of bleached momen cotton and it was our absolute must-have's. We can make underwears, support for Obi belt, or bandages…. We cut them in pieces and use as a kitchen cloth. In Japanese cuisines, this white clothes can make foods amazingly neat and crispy. Although nodaways it is hard to find a Japanese original momen cotton clothes and lots of imported thicker towel are widely spread thousands of households in Japan. I wonder this could mean that good old Japanese cooking style is coming to an extinction?
As I said previously this momen cloth can do a miracle in the kitchen in many ways. Drain Dashi soup, make a ball, squeeze cucumbers, and its must-have's for sushi, battera, etc. In the steam pot, we put momen cloth to avoid dripping from the lid, and when serving rice to a wooden bowl, you can cover it with momen cloth so that any moisture that comes from the lid can be absorbed onto the cloth. Also, we can cover steamed yam sweet or any other sweets with momen cloth on the table too.
A good housewife must always wash and dry momen cloth as often as she can and we must clearly distinguish if those clothes are used for clean stuff or not-so-clean stuff.
My husband's hometown in southern Osaka (Kawachi-region) makes "Tea rice porridge (Chagayu)" by using this bleached momen cloth. First make a little bag of approximately 7cm of bag and put tea powder derived from roasted tea or genmai tea. In the big pot, pour washed rice a lots of water and this tea bag to cook in a simmer heat for 20-30 min. My mother and father-in-laws hated "Iregayu" porridge using already cooked rice because the taste was quite unpleasant.
Tea rice porridge was invented so that we won't be wasting rice, this rice-saving as well as delicious and easy methos were then spreaded to Kyoto, Kawachi, Nara and Wakayama. We sip this hot porriage together with crispy pickles …. that what we call as Kawachi (southern Osaka) style. And in the kitchen, they dry used tea bag for the next delicious tea rice porridge to make.
Kawachi region is where momen-cotton come from
I found from my home storage box a thick cotton kimono at-home jacket with a drum-shaped sleeve and the length till waist, made by black cotton Kimono fabric the texture is so crispy! Nicely dye tailor-made to fit perfectly and also I found a beautiful entrance screen decoration for festive seasons, and also very long partition screen with cherry blossoms all over, made by different kind of cotton fabrics. After Meiji era of 1900's, Japanese cotton industry was seriously damaged by imported cottons, so maybe those wear post war made. Cotton was introduced to Japan in the 7th century and spread all over Japan in war-time periods of medieval times. In Edo perios (1603-1867) in Osaka 's big cotton industry area were Kawachi, Kashiwara and Senshu. Kawachi cotton was renowned especially due to its toughness and good quality and it became "must-have" for the newly brides.
At the crossroads of between Onchi road and Higashikoya road, there is famous Onchi shrine and in front of Onchi shrine, I visited Mr. Ogihara at Yamannechi. In Edo period the "Thrift law" was enacted for 5 times and the Edo shogunate restricted the commoners to wear only cottons and the colors must be navy, brown or gray. So all the white-woven cotton rolls were shipped to Shikoku,Tokushima or to Shiga, they dye the cotton and then sell to the markets. When I looked at beautiful house of Mr. Ogihara, whose family was used to be a biggest cotton whole seller in the city, I could vividly imagine how people must have been crossing this road with horse-carriage with a bunch of rolls of Momen cotton the streets. And Kawachi had its biggest cotton fields in the area. When Osaka was called the "Big-Osaka" for its boosting economy in 1920's, any shop boy with a bloom or housemaid's apron were all navy momen cotton. It was indispensable for people's everyday lives and those were supported by the Villagers around Osaka, such as Kawachi.
Mr. Ogihawa said to me with his lovely smile. "I was thinking about demolishing this old big house, because keeping this house as its condition is a tremendeous work for me, but many people come up and said to me that they would help me to restore the place, so I want to make this place where people can gather. His place is called "Chakichian" is now finding a new path. I said to him that maybe he can make "Tea rice porridge" restaurant because this is a local speciality. He kindly said to me, "Oh, that's a good idea" smiling. The air was still cool but the sunlight was almost that of a spring, we both relaxed and enjoyed the atmosphere.
This time, I will teach you how to make a Potato porridge- it's a Kawachi region's specialty using rice and sweet potato.
Sweet Yam Porridge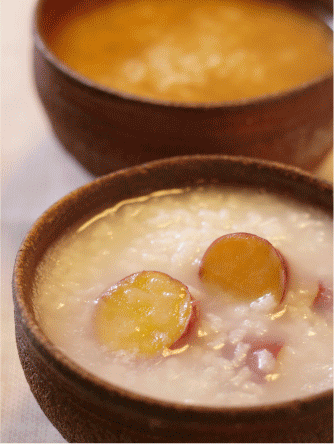 Ingredients (4 servings)

| | |
| --- | --- |
| Rice | 1 cup |
| Water | 4 cups |
| Sweet yam potato | 1 |
| Houjicha or Genmaicha | 2-3 Tbs |

How to cook

| | |
| --- | --- |
| 1. | Cut sweet yam potato in 2cm slices. Put Houjicha or Genmaicha tea in the cotton bag. |
| 2. | Put rinced rice, water, tea bag and sweet yam potato in a pot. |
| 3. | When boiled, simmer heat for about 20 min, until rice is tender. |

Aiko TanakaProfile
Osaka Shoin Women's University, professor
World Home-Cooking Specialist
Cooking book author
Edible Herb Garden Association, Chairman
Association of Japanese Cuisine for Future, Chairman
Born in 1949, in Osaka, Japan. Graduated Osaka Shoin Women's University, majored in English Literature. After marriage with an entrepreneur and raised a boy and a girl, Aiko Tanaka entered and apprenticeship to Ms. Yoshioka Akiko, cuisine specialist, to master basic home-cooking and as well to be an expert in "Foods"
In 1987, Her husband opened a high-end Japanese Restaurant in the 5th. Avenue, New York City. Due for her husband's business in New York City, Italy, Australia, Tasmanian Islands, Hong Kong, Korea, etc. she helped and promoted many party arrangements in various places.
She had acquired many valuable experience in overseas and as a fruition of her work she published her first book "Good Gathering From New York" in 2001. Soon after she started to appear on TV, magazines, medias as a cooking expert. As a part of food study activities, she promotes "Philosophy On The Table" (Food study) theory. In 2014, as a professor at Osaka Shoin Women's University, she had established "Food Study" course, and is very first in Japan nationwide. In 2016, at Food Study Conference in USA and Toronto, Canada, she lectured about the crisis in Japanese cuisine and was highly recognized and appreciated. In order to expand Japanese cuisine, she tirelessly does many cooking classes and seminars in Japan and all over the world. She has written many books such as "Tasty and Fun Good Gathering From New York" (Bunka Shuppansha, Co.,Ltd.) "Japanese Cuisine Gathering"(Asahiya Shoten.Co.,Ltd.) and her recent launch is "Philosophy On The Table" (Asahiya Publishing, Co.,ltd.)